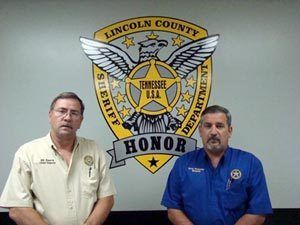 Civil Process
The duty of the civil process is to serve civil warrants county wide. These warrants cover orders of protection, subpoenas, evictions, court ordered property repossession, and other warrants related to civil law. They also assist other agencies state wide by locating and serving civil process to Lincoln County citizens.
Corrections
Corrections are responsible for the safe keeping of the inmates while they are in custody at the correction facility. They are also responsible for the safety of the community by preventing inmates escaping from the facility.
Inmates are able to have visitors through video visitation at the facility. Visitation days are Wednesday, Saturday, and Sunday. Inmates can only have one visit per week, and the week starts on Wednesday. Please call (931) 433-3111 for questions regarding visitation or you can go to 
https://www.icsolutions.com/
to schedule a visit. you can also go to the site to add money to the inmates phone. Commissary money must be mailed in to the inmate. We only take money orders or cashier check.
Criminal Investigations
The purpose of the Criminal Investigations Unit is to investigate all crimes in Lincoln County, TN. These crimes are committed against persons, property, and society. These crimes include: arson, child abuse, sexual crimes, domestic violence, gangs, murder, robbery, theft, vandalism, forgery, among others.
Patrol
The Patrol Division respond to dispatched calls for service and also patrol the roads throughout the county's 580 square miles. These deputies provide security for citizen's as well as enforcing traffic laws, providing escorts (such as funeral), and serving arrest warrants.